Cygnus Manufacturing Company
Cygnus Manufacturing Company: Your Partner from Prototype to Production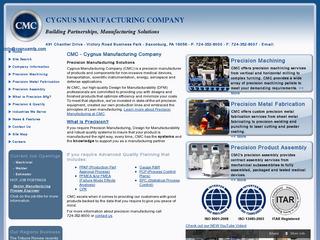 Full Description
---
Cygnus Manufacturing Company (CMC) is a manufacturer of precision machined components and fabrications and provider of contract assembly services for non-invasive medical devices, scientific instrumentation, energy, transportation, aerospace-defense and industrial applications.
Machining: Precision CNC milling and turning up to a 30″ cube and 15″ diameter. Ability to hold tolerances to +/-.0003. Over 200 pallets and 50 machining centers. Metals, plastics, exotics and composites. High to medium production volumes.
Fabrication: MIG, TIG, Spot, Stick and Ultrasonic welding. AWS Certified Welders. In House Certified Weld Inspectors. Aluminum, Stainless Steel and Steel down to .030″ thick. WPS/PQR submissions. Punch, Laser, Form and Bend capabilities. Single components to full populated box builds. Design for Manufacturability assistance.
Assembly: Mechanical & Electromechanical assemblies. Value add through complete management of BOM (supplier sourcing, tool sourcing management and validation). Build, test, package. DHR management, visual method sheets, dedicated and mixed model lines.
Facility: 115,000 square feet modern ITAR controlled facility. 3 shifts. Dedicated assembly area. Kanban, LEAN and 5S concepts utilized throughout. Climate controlled. In house masking, powder coating and phosphate etch capabilities. Software regulated PM program.
Quality: ISO9001:2008 and ISO-13485 registered. Certified Quality Inspectors. 2 Zeiss Programmable CMMs. Advanced Quality Planning (including PFMEA, PPAP, CPK, Gage R&R, PCP). Lot control and material traceability capabilities.
---
---
Leave a Reply
You must be logged in to post a comment.